Parivartan Mahila Sanstha
(View Website)
(Income Tax Exemption under IT Section 80G Available)
The receipt is issued against donation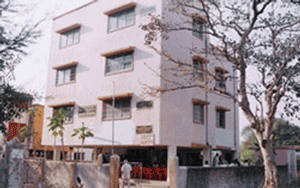 Trust working for the cause of overall uplift of women, children & indirectly the families in the city as well in villages to support weaker sector of the society.
Projects:
1. Mukta
- Home for Destitute Girls
To provide Shelter, Safety, Health, Healthy Food, Education & Future Self Sufficiancy to destitute and orphan girls.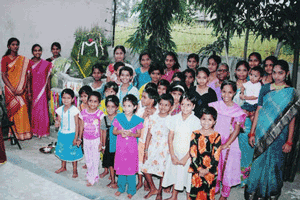 Mukta is Balikashram, a project for the Shelter, Security & Rehabilitation of Orphan & Single Patent Girls from the Monitory Backward Class of the Society.
Balika Bhavan building is owned by Lions Club of Mulund. It is 4000 sq. ft. area, a stilt + three floors & well designed structure with independent compound. Project is situated near Ganesh Mandir, at Titwala, 2-3 kms. away from Titwala railway station.
This beautiful construction was made for the cause 'Help to Needy Mankind' & in accordance, the possession of the premises was handed over to Parivartan Mahila Sanstha for the project, Mukta. The handing over ceremony took place on 16th Jan 2005 in presence of office bearers of both the institutes & few other supporters.
As on date there are 38 support less girls staying homely along with 6 attendants. 130 Girls benefited till date
2. Dilasa
- Home for Old Aged
To provide care and shelter to senior citizens. Situated at MIDC, Dombivli.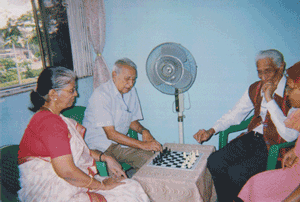 We have started day care center for providing emotional support, security and care to vulnerable group that is senior citizens of our society. For our center we have build up rapport with local doctors and volunteers to carry out day to day needs of center.
At our center we have facilities for recreation and rest for aged. In this center, they are getting peace and healthy environment.
27 senior citizens benefited till date.
3. Urjita
- Self Help Groups
For economic empowerment of the women from marginalized and vulnerable groups.
We have formed 525 Self Help Groups in 8 Talukas of Thane district. The members of groups always participate in various training, skill building, educational workshops and exhibitions for sell of group products.
The production of our groups are includes - hand made and agricultural products such as Candles, Paper Bags, Hand Polished Rice, Wormipost, Nachani etc. products and other home made recipes.
4. Sakhi Vasundera
- Rural Women-Farmer Training
To provide information on farming and to create support group for women farmers
Women farmers are invisible and vulnerable community of our society. They are far from new technology, information and government schemes about farming. Through our Sakhi Vasundhara project, we have tried to reach to women farmers and raised their voice. We have conducted Melava and workshops on farming for empowerment of women farmers.
For this project, we are working in association with various department of government related to irrigation, water supply, farming and NABARD
5. Sabala
- Women & Child Health Care
To provide health care to women and children and to create awareness in society about health
At present we are working in 29 villages in Shahapur taluka of Thane district on reproductive health and child care as part of national programme. RCH is central government aided programme. Throughout year we have organized health awareness meetings and workshops with women, men, youth boys and girls. Through home visits and counseling sessions we have reached to 29 villages. During year we have conducted health camps and trainings on issues of family planning and women, child care and youth health. We have organized health camps and poster exhibitions for Reproductive tract Infection and sexually transmitted Infections in villages.
6. Swadhar
- Work Against Anti-Trafficking
To work for prevention, rescue and rehabilitation in the field of trafficking.
We are member of Thane and Maharashtra state Crime Branch and Women and Child development Cell for Prevention, rescue and rehabilitation for trafficking issue. We are working in collaboration with government and other social groups for rescue and rehabilitation work. Our organization has successfully rescued and rehabilitated many minor girls in Thane district. Our organization has participated in various state level seminars on this issue and also active member of state networks and forums.
7. Sakhi
- Counseling Center for Distress
To provide counseling and to support in crisis to needy and distress women.

Through our counseling center we are providing emotional, social, economic and legal support to more than 50 women per year. Our counseling center is working in collaboration with police station, other organization and women groups.

We have developed good rapport and network with team of doctors, hospital, advocates, and shelter homes for our beneficiaries. Our counseling center is also providing guidance to women for economic and social empowerment.
8. Aadhar
- Support and Care-HIV/AIDS
To provide support and care to women living with HIV/AIDS.
This project has been undertaken with the aim of supporting HIV Positive women and enhancing the Quality of their lives. At present 22 HIV Positive women are associated with our group and now they are supporting to each other. We provide counselling and guidance to women and their Family member to help them cope with illness and enhance the quality of their life.
We are providing emotional support and awareness training on self care. At present, we have shifted two HIV Positive women to Snehalaya who were in need for shelter and care.
We have organized programmes for removing stigma attached to HIV and AIDS. We have conducted various group sessions for infected and affected members during year.
9. Ekati
- Support for Destitute Women
To work for empowerment and rights of single and destitute women.
In our society single and destitute women are getting secondary status. Their social, economic, cultural and political rights are always exploited by family and society members. We have created support group for single and destitute women from marginalized section of society. During year we have reached to 147 single and destitute women.
We are member of district and state forums for single women rights. We are providing emotional, counseling, social, legal and medical support to single women in crisis through our support group. We have also created educational support to children of single mothers and vocational training to women for economic empowerment.
10. Sakhi Sachiva
- Annual Publication
Annual Diwali Magazines were published dedicated for specific subject every year for nine years. The Publication is best on a definite important subject every year. The problem dealt with is carefully chosen according to the gravity of need & importance towards women. The literature in all forms but related to or dealing with the same problem is invited from renowned writers. There are 4 issues published up till date. The publication has attracted attention because of its uniqueness and hence, has received prize from "Patrakar Sangh" almost every year.
Following subjects are covered: -
2000 Issue for Women in Indian Culture - Yesterday/Today/Tomorrow.
2001 Issue for Women Empowerment
2002 Issue for Sexual Harassment,
2003 Issue for He & She Social Gender Sensitization.
2004 Issue for Marriage a Brain Storm
2005 Issue for Female Child Birth - Let them live or Natural Warning
2006 Issue for Relationship against Marriage
2007 Issue for Constantly Changing Family System
2008 Issue for Family Violence & Awareness of Law for Women
Many Other Projects
1. Health Exhibition:
2. Adolescent Education Campaign:
3. Pulse Polio Immunization:
4. Poverty-Alleviation:
5. Workshop For PMRY Scheme:
6. Self Help Groups:
7. Fashion Designing Camps:
8. Leather Bag Preparation Teaching Camp:
9. Training Workshop at Rambhau Mhalagi Prabodhini - Mumbai:
10. Celebrations of important Women Activist from History:
11. Debate on women portrayed in media particularly on television:
12. Family Counselling:
13. Adolescent Counselling:
14. Women Empowerment - Justice for Women
15. Women Empowerment - Rehabilitation:
16. Sexual Harassment at Work Places:
17. Dombivali Sex Scandal:
18. Morchas on various subjects:
19. Rehabilitation of a victim of rape case:
20. A Seminar on Mahilanchi Asmita
21. Group Savings Scheme:
22. Leadership Ability:
23. Karate Education for Working Women:
24. Medical Camp - Vaccination:
25. Medical Camp - HIV & Aids:
26. Working for Red Light Area:
27. Short Stay Home:
Address:
Parivartan Mahila Sanstha
2nd Fl., Sudama Smruti,
Snehankit Chowk,
Near Pragati College,
Nandivli Road,
Dombivli (E) - 421201 (India)
Tel.: +91-9322217024 (Jyoti Patkar)
E-mail: info@parivartanmahila.org